OUR LEADERSHIP TEAM
The Minds Behind Level Playing Field

Darby on breaking barriers:
"The minute there is a barrier, my independence is gone."
Darby Lee Young was born with mild cerebral palsy, but has never allowed her physical limitations to stop her from following her dreams.
One of her big dreams has been to apply her personal experiences as a disabled individual to her professional life, so that she can help others with physical challenges chase their own dreams.
Darby has turned her passion for removing barriers into a decade of experience working as an accessibility strategist
She is an expert in universal design, has a deep understanding of building codes and drawings, and has contributed to the success of removing barriers at a municipal level, provincial level and across North America. Darby sat on the City of Calgary's Advisory Committee on Accessibility (ACA) from 2011-2015 and was the committee's co-chair for two years. She also represented the City of Calgary at the International Summit on Accessibility. In June of 2017, Darby was appointed to a three-year term on the Premier's Council on the Status of Persons with Disabilities.
LPF has allowed Darby to offer her expertise to a wider range of clients. By incorporating barrier-free design features in new builds and conducting accessibility reviews on proposed and existing facilities, Darby's work continues to make a significant difference for many people living with disabilities and puts her team at the forefront of accessibility consulting.
She has boundless energy and a sunny disposition that permeates both her professional and personal lives. It is impossible not to be inspired by Darby's positivity.
As a sports enthusiast, Darby is a former para-alpine ski racer and has a passion for hockey. In her downtime she volunteers and fundraises for both sports, including at various national and international events.
Patrick White has 18 years of lived experience. Patrick is currently studying Architectural Technology at the Southern Alberta Institute of Technology. He is eager to refine his expertise in the field of barrier-free design and keen to promote accessibility for everyone. With Level Playing Field, Patrick hopes to be a part of an ongoing effort to create truly barrier-free environments. Patrick is enthusiastic about accessible athletics, having participated in: competitive sledge hockey, downhill skiing, and hand-cycling.
Patrick is also a Rick Hansen Foundation Accessibility Certification (RHFAC) Designated Professional. His bio can be found here Shane Holten, MES, MCIP, RPP
Accessibility Strategist
Shane Holten is a member of the Canadian Institute of Planners (MCIP) and is a Registered Professional Planner (RPP). Shane has over 15 years experience in the construction industry and planning field, starting his career as a partner in family-owned residential contracting and pipeline construction businesses.
Working alongside a variety of architects, designers and contractors has provided Shane with extensive hands-on experience and understanding of construction methods and project management skills. Shane has a Masters in Environmental Studies and has focused on inclusive and accessible design initiatives since establishing SPH in 1999. Shane has worked in both the public and private sectors as an urban planner and accessibility consultant on a variety of equal access projects and other policy development initiatives.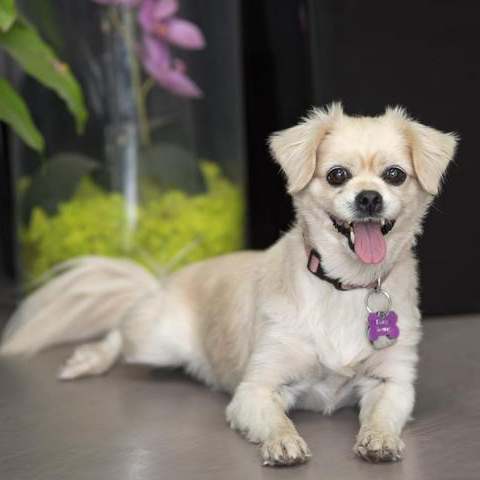 Daisy enjoys greeting clients and overseeing the day to day operations of the LPF Team.
Born May 2009!