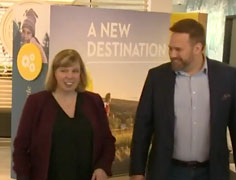 Level Playing Field's Founder and Principal Accessibility Strategist, Darby Lee Young in a CTV NEWS clip, January 2019.
Level Playing Field
Level Playing Field is a new consulting company that provides Universal Design solutions. We evaluate, develop and promote accessible and Universal Design for housing, buildings, outdoor and urban environments and related services.
Recent Blog Posts
LPF Facebook Feed
"The Thompson Okanagan Tourism Association (TOTA) has launched a new campaign to promote full inclusion and accessibility in all aspects of travel experiences in the region. The Accessibility in a New Light project is being conducted in partnership with AccessBC and Spinal Cord Injury B.C., with the purpose of allowing equal opportunity for people with different capabilities to enjoy the products and services offered in the region in the province's Interior.
"Sonja Gaudet, a three-time Canadian Paralympic gold medallist wheelchair curler, is TOTA's regional accessibility specialist and one of the voices in the campaign video. Gaudet, a wheelchair user for 23 years, said many recreational facilities in the Thompson-Okanagan region are still not very user-friendly for people with disabilities.
" 'I've been kayaking for many years and it just got too frustrating having to haul my kayak and expecting my husband to come along with me every time,' she told Chris Walker, host of CBC's Daybreak South. Gaudet has been working with the Vernon Paddling Centre to launch an adaptive kayak boarding program."
Read more here: www.cbc.ca/news/canada/british-columbia/tourism-campaign-accessibility-okanagan-1.5675720
#Accessibility #Inclusion Accessbc Spinal Cord Injury BC Spinal Cord Injury Canada #AccessibleBC #AccessibleCanada #AccessibilityAwareness #AccessibilityMatters #InclusionAwareness #InclusionMatters #LevelPlayingField #LPF … Read MoreRead Less