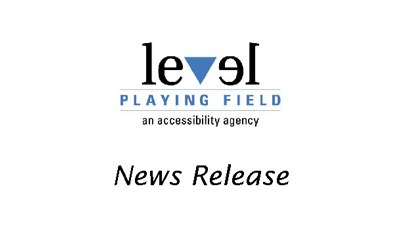 Darby Young recognized as one of Top 20 To Watch in 2017 by Calgary Herald for trying to create a Level Playing Field when it comes to accessible cities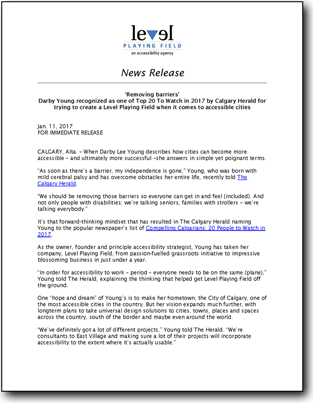 Jan. 11, 2017
FOR IMMEDIATE RELEASE
CALGARY, Alta. – When Darby Lee Young describes how cities can become more
accessible – and ultimately more successful –she answers in simple yet poignant terms. "As soon as there's a barrier, my independence is gone," Young, who was born with mild cerebral palsy and has overcome obstacles her entire life, recently told The Calgary Herald.
"We should be removing those barriers so everyone can get in and feel (included). And not only people with disabilities; we're talking seniors, families with strollers – we're talking everybody."
It's that forward-thinking mindset that has resulted in The Calgary Herald naming Young to the popular newspaper's list of Compelling Calgarians: 20 People to Watch in 2017.
As the owner, founder and principle accessibility strategist, Young has taken her
company, Level Playing Field, from passion-fuelled grassroots initiative to impressive blossoming business in just under a year.
Click on the page above to read the full press release.